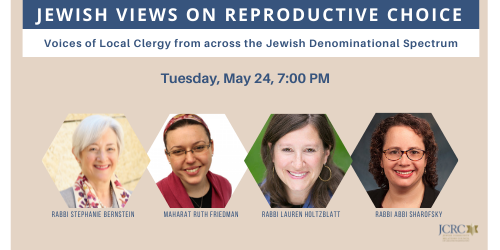 Jewish Views on Reproductive Choice
Join the JCRC for a discussion featuring Jewish perspectives from clergy of our local Orthodox, Conservative, and Reform communities.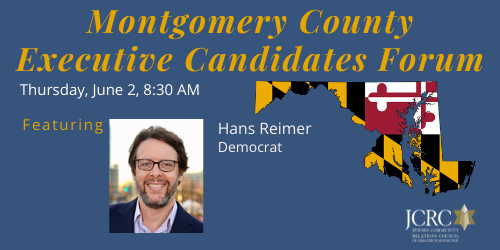 The County Executive's Race is On
The JCRC is holding a series of meetings with candidates running for Montgomery County Executive and Maryland Congressional District 4. The primary is July 19! Don't miss this opportunity to meet the candidates and have your questions answered.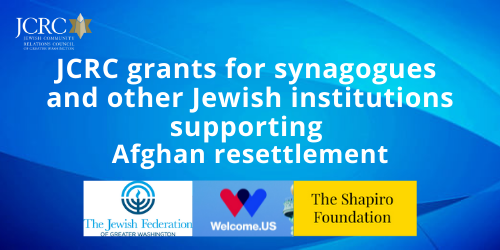 JCRC grants for synagogues supporting Afghan resettlement
The JCRC will distribute grants of between $1000 and $2500 per synagogue/agency to support Afghan resettlement work.
---
Yom Ha'Shoah Community-Wide Holocaust Commemoration
Many thanks to the hundreds of people who joined the JCRC for our community-wide Yom Ha'Shoah commemoration.  The sacred obligation of remembrance continues even --- and especially --- as the years pass, and particularly in the face of rising antisemitism nationally, worldwide, and in our own communities.   Thank you to all of the synagogues and organizations that partnered with us to create this powerful program.  
To view this year's downloadable program please follow this LINK.
In conjunction with our annual Yom Ha'Shoah Commemoration, we will also be hosting the following virtual programs:
Dor L'Dor, Intergenerational program for teens and their families to meet with and hear local Holocaust survivors share their living testimonies. Tuesday, April 26, with Holocaust Survivor Ruth Cohen, view HERE, and  Sunday, May 1, with Holocaust Survivor Peter Gorog, view HERE. Contact Sara Winkelman for more information.
 
Unto Every Person There is a Name, the annual reading of Shoah victims' names co-sponsored by B'nai B'rith International and the JCRC. Names will be read by local Jewish day school students.
 
Zikaron BaSalon, Memory in the Living Room, a program started in Israel which allows community members to host an online Holocaust remembrance conversation with your friends and family. Contact Adam Odesser for more information.
JCRC By The Numbers
$8,000,000 government funding for community security & social services
---
5,000 students and teachers met with a holocaust survivor
---
700 students trained to advocate for Israel
---
Montgomery County announced a series of grants to help pay for security at houses of worship. News4's Derrick Ward reports.
Guila Franklin Siegel, associate director of the Jewish Community Relations Council of Greater Washington, pointed out that the vote for the new calendar took place on International Holocaust Remembrance Day.