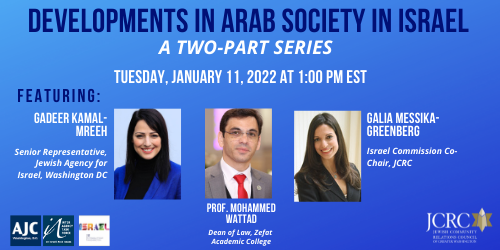 Developments in Arab Society in Israel
Join us for a two-part series exploring the unprecedented developments in Israel over the past year, from the May 2021 events to an Arab political party playing a critical role in the governing coalition, leading to a historic NIS 30 billion commitment to Arab society in Israel.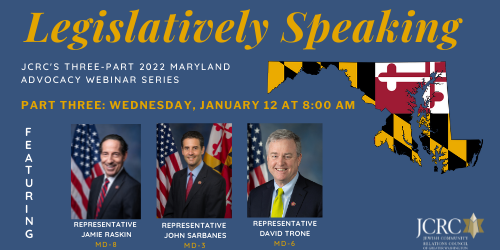 2022 Legislatively Speaking Part Three
Join us for Legislative Speaking, the JCRC's three-part 2022 Maryland advocacy webinar series, you will have the opportunity to hear Federal, State, and County elected officials discuss legislative priorities  as the Jewish community prepares to advocate in the coming year.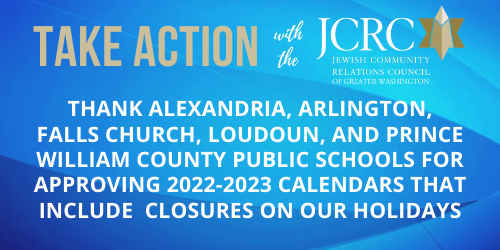 Take Action Now to Thank your NoVA School Boards
Your voices made a huge difference in this process, and we thank you for your advocacy!  It is important that we now express our appreciation to our NoVA school board members.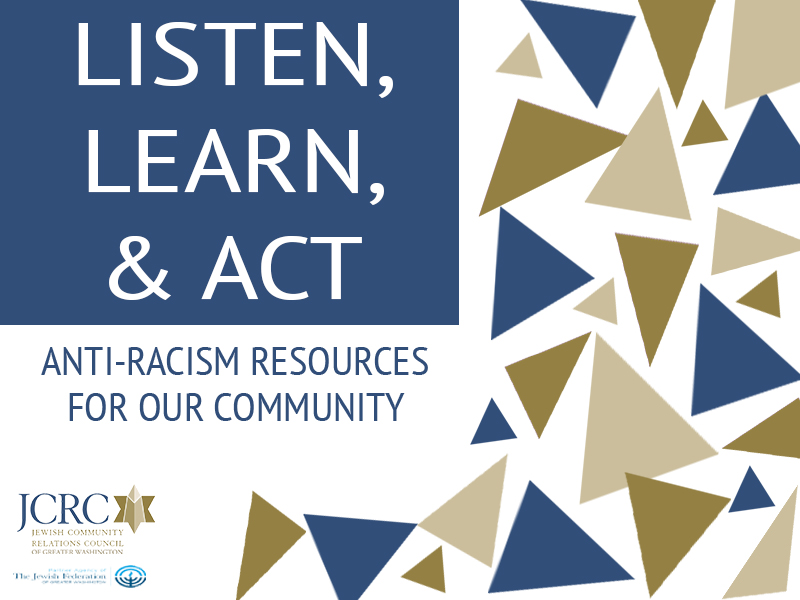 ---
Listen, Learn & Act - Racial Justice Resources for Our Community
Racism's horrific scope is plain for all to see. Recent tragedies have sparked widespread pain and anger and a heightened urgency around these issues. Whether you are a seasoned social justice activist or are delving into this work for the first time, the JCRC is here to support you, and help you create a plan of action.
JCRC By The Numbers
$8,000,000 government funding for community security & social services
---
5,000 students and teachers met with a holocaust survivor
---
700 students trained to advocate for Israel
---
Rabbi Abbi Sharofsky, who serves as JCRC's director of Intergroup Relations and previously served on Governor Ralph Northam's Task Force on Culturally Inclusive School Meals and Calendars, said that the O calendar "was not enough" and a "device that was created to try and fix a difficult situation, and all it did was create more confusion." 
"We are hopeful that President Biden and Prime Minister Bennett will enjoy a relationship of mutual respect and cooperation that will further the special bond between our two countries," said Ron Halber. "Most American Jews would like to see close coordination between our leaders in solving the COVID crisis and responding to the threat posed by Iran."